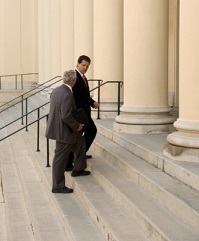 If home is indeed where the heart is, and the courthouse is where the action is for attorneys, then Executive Suite Professionals provides lawyers a home at the heart of the action.
Just across the street from  the Duval County Courthouse in Downtown Jacksonville, ESP is ideal for attorneys who need a convenient professional Class "A" office solution.
With incredible views of the St. Johns River and Jacksonville's skyline, ESP's all-inclusive furnished executive suites provide attorneys with voice/data, reception service, a beautiful client lounge, video conferencing, parking, utilities, an equipped kitchen, full-service copy mail room and on-site fitness center.
[youtube=://www.youtube.com/watch?v=yCh8NajM4V0&w=854&h=480]
ESP also has five large meeting rooms that are ideally suited for mediation, litigation or arbitration proceedings, replete with flat-screen smart TVs, high-speed Internet connections, Cisco conference phones and beverage service. ESP can host attorneys who need space for the day or even by the hour. Not only are executive suites less expensive than a typical fixed office space, they tend to have flexible lease terms.
Attorneys can also find clients by networking with other business owners and professionals who call ESP home, which include certified public accountants, engineers and financial advisors. ESP regularly hosts after-hours networking events and workshops on topics like marketing via social media, so that clients can learn about each other as well as topics that help their businesses. Each client also gets a grand opening, which other clients are invited to attend.
A welcoming team makes ESP's clients and their customers feel as if they are at  home and in the case of attorneys that home is in just the right place.