Thursday, June 15th,   Lisa Gufford, Managing Member at Executive Suite Professionals planned an event in cooperation with CenterState Bank entitled 'The Flavors of Downtown" where several brick and mortar restaurants donated food. Some of the restaurants include, The Pita Pit, Banks BBQ and Bakery, Akel's Deli, Uptown Kitchen & Bar, The Ultimate Caribbean, and the Burrito Gallery. Why is this important?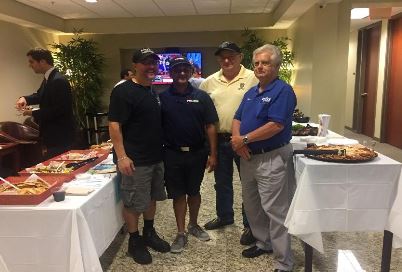 People come together over food, as its an integral part of our culture. We build networks over a meal, strengthening old bonds over chips and salsa or a rack of ribs. These downtown brick and mortar restaurants are an integral part of our culture and our economy in downtown Jacksonville. Recently however, there has been a decline in business due to the rise in popularity of  food trucks. At the event, the representatives of the restaurants featured explained that the food trucks, which are a good idea, ultimately are not a good fit for downtown.
The trucks are traditionally made for carnivals and theme parks, a more whimsical environment. They even work wonders in places like New York and LA, but here in Jacksonville, the population density has both brick and mortar restaurants and the food trucks marketing to the same patriots.
During the event, the food was sampled and it was noticed that there were many healthy selections, Pita Pit and Akel's offer exceptionally delicious and healthy food choices compared to the food trucks, as well as friendly inviting atmospheres. The Burrito Gallery and Uptown Bar & Grill are perfect for dinner meetings with their full bar and eclectic selection of food. These restaurants are part of what make Downtown Jacksonville amazing, they bring the people together in a way that the food trucks can't.
We are all a family, the Burrito Gallery even advertises local artists, their artwork hangs on the walls, inviting conversation and nurturing the talent locally.  Next time you and your co-workers want some good food and to make good memories visit the brick and mortar restaurants, they are here to serve you and bring you the best experience possible. Remember this is our home and we are all family. We must support one another when we can. It is reported that the restaurants featured at the event will be called for catering opportunities by some of the guests who attended.
-Devin Hill